I have mixed feelings on Wheels of Aurelia. On the one hand, I don't like the game enough to play more of it. On the other hand, I keep thinking about it. It was going to get a section in "Didn't Make the Cut," except I think I have more to say about it than any of the other games that didn't make the cut, so it gets its own article.
So what is it? Wheels of Aurelia describes itself as a racing game set in Italy in the 1980's. I'd describe it as a visual novel with a light driving element set in Italy in the 1980's.
Potayto, potahto.
For those of you with busy lives, here's the five second summary: I think it's very interesting, but I did not like it very much.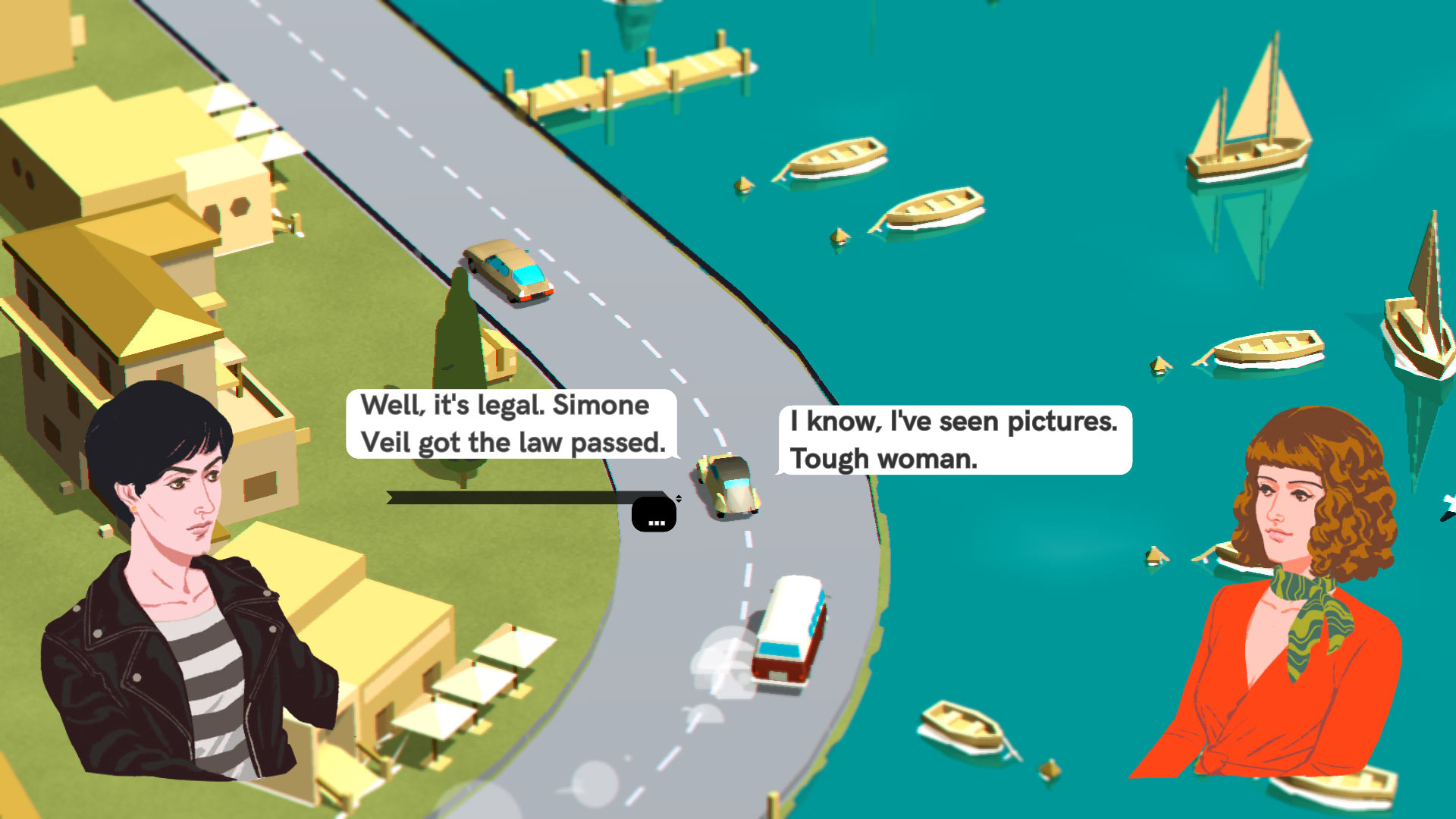 There are some really strong parts to Wheels of Aurelia, but these parts (usually the writing and the setting) feel somewhat disconnected.
The big one is the setting of 1980's Italy. One thing the game has made abundantly clear to me is that I don't know shit about 1980's Italy. And while the game does link to some sections of text from Wikipedia, this wasn't enough for me to understand a lot of what was being referred to in the writing. Which brings us to the second problem.
The writing shifts tone rapidly to the extent that it feels almost non-sequitur, with the result being that parts of the story just don't make any sense whatsoever because of this tonal shift. For example, characters that have barely been named suddenly become relevant.
The main character goes from losing their car in a race to a molesty creep (and being understandably fucking pissed), to buying a 3 wheeled tractor cheerfully from a farmer, to chasing fascists for some reason. The end result was that I had a harder and harder time following the plot as it went on.
However, this doesn't characterize the entire game. There's a well-written and interesting dialogue with a hitchhiker about a football club. And sub-sections of the game are fine. It's how they connect that sucks. At first, I thought this might be related to the game's localization or translation, but the game's credits don't actually list an English translation. So I'm honestly not sure what happened with the writing. Sub-sections of it are fine, the but the overall arc feels janky.
In either case, enough ragging on. Let's talk about what the game does have going for it:
A solid soundtrack. I actually kind of want to re-listen to a few of these. (Wait until 1:00 minute in for it to go crazy.)
Strong art design. Both the characters and environments are well done. They're fairly minimal, but I'd consider that to be a good thing.
A solid attempt at combining standard game mechanics with a visual novel. I wouldn't say it succeeds 100%, but it's interesting, and trying to drive while also deciding how to respond to prompts is neat.
And yeah, that's about it. Wheels of Aurelia is $10 on Steam, Epic or itch.io. And it's also in the itch.io racial justice bundle, so if you purchased that, you already own it.
It wasn't for me, but maybe it will be for you?