Back 4 Blood can't seem to decide if it's a spiritual sequel to Left 4 Dead or not. On the one hand, the marketing, dev team, aesthetics, all scream Left 4 Dead. On the other hand, the subreddit for the game keeps saying that it's unfair to compare to the two, c'mon guys.
If you haven't played Left 4 Dead, here's a brief overview of the structure of the game. You play as a group of 4 survivors, you start in a safehouse, and try to make it to the next safehouse while shooting, beating and running from the undead. I think the shortest way to describe it would be "Co-Op Horde Shooter". In addition to the normal zombies, there are special infected who have a few special abilities, you have the ability to res your friends when they get downed, and you have to manage ammo.
B4B adds a few systems, including a stamina system shared by melee and sprinting, and a card system that seems sort of like a rouge-like. Oh, and attachments for your guns. Cool. Overview done, lets get to the reviewing.
I think the Back 4 Blood beta is garbage. The thing is, I haven't really even played the game, and I don't like the genre, so I figured I'd ask my other friends I played with for their feedback. So let's see what these other folks thought, shall we?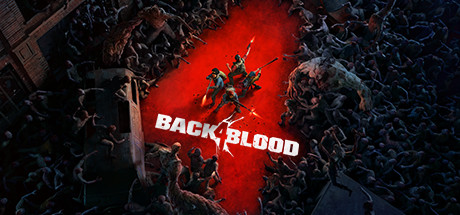 Person 1 – Likes the genre. 100+ hours between the various Killing Floor games. Unknown amount of time in Left 4 Dead.
"It's not worth $60 and the things that are missing are fundamental. The net-code sucks, there's a crazy amount of rubber banding, all the time. Bot AI sucks. This game requires you to have 4 people that contribute at least to a minimum amount, and the AI is so garbage, it simply can't pick up the slack.
Matchmaking sucks, it takes forever, and matches you into games that are literally just ending, or about to run out of continues. Lobbies closing also seem bad, cause when you run out of continues, the game just kicks you out. Reload animations are kind of jerky.

A lot of the weapons feel like they need more balance. I do like that the hitboxes for the head are massive, like twice as large as the head and I like the new systems they've added. The card system is neat, I really like the stamina and melee system. The problem is, though, even if the new systems are cool, the fundamentals to making the game fun just aren't there. I'd pay no more than $20 for it in its current state."
Person 2 –
"I love it, but the bots need to be infinitely better. Matchmaking just kind of sucks right now,but I'm sure it will be fine eventually. Netcode feels awful, you rubberband like shit. I know some people complain about gunplay, but I think that's pretty good. You should be able to remove attachments from guns. Difficulty scaling needs tuning. Feels like there needs to be 4 difficulties instead of three. AI director is kind of shit. I like the card system, and the ways to build into classes. Telling specials apart is hard."
Update: This individual is still pre-ordering the game.
Person 3 –
"The two minutes of gameplay that I got to see between two hours of disconnecting, uninstalling the game, and then trying to launch the game on anything but the lowest settings was okay I guess."
So, there you have it. The Gametrodon survey. I had more fun shooting my friends with guns in the rifle range than I did in any of the missions I played. So yeah. Right now, I absolutely won't be buying Back 4 Blood based on the beta. It was just kind of trash, and since it comes out in three months, I really don't expect it to get that much better.