Mythic Mischief and Klask don't really have anything in common with each other. It's not even like they had booths next to each other or something. Mythic Mischief is an action economy and movement-based game with victory points that almost reminds me of Chess. Klask is a skill-based dexterity game that feels like miniature air hockey.
So why am I covering them together? Because I don't have enough to say about them separately to fill writeup! Anyway, let's get to it.
Mythic Mischief
Mythic Mischief is an asymmetric grid-based movement game, designed by Max Anderson, Zac Dixon, Austin Harrison, and published by IV Games.
The best summary I can offer is that you and your opponents both control 3 miniatures on a 5v5 grid. Alternating turns, you attempt to spend your actions and use your abilities to place your opponent's units in the path or directly on an NPC unit called the Tome Keeper.
Editor's Note: Tome Keeper not to be confused with Dome Keeper
At the end of a player's turn, the Tome Keeper moves towards specific locations. If there are units in its way, the Tome Keeper knocks them out, and the player who didn't control those units scores points. Units that get knocked out can be replaced at the start of the next player's turn.
There's a fair amount to the movement and action system, and how it plays with the game's upgrade choices that I don't think I can summarize effectively, so I won't try. It's a perfectly fine system, but I would not describe it as "Sparking Joy," at least for me.
It is worth noting that each player will be playing a different faction, with unique abilities and so keeping track of what your opponent can do is necessary to succeed.
I only played one game of Mythic Mischief, and it was a combination of a demo and an ass beating. I wouldn't say that I hugely enjoyed it. That might have been because I lost, and because I get salty easily. But I also struggled with two other factors.
First up, just because of how the game works with scoring, it felt very difficult to make any sort of comeback once I fell behind. Secondly, the game reminded me of Chess in that it felt like a game of trying to find the "Correct" moves, and like a puzzle of chaining things together. That's just not something I find very fun.
So yeah, if you do like deterministic movement games, or things like Chess, maybe you'll get more out of Mythic Mischief than I did.
Klask
Klask is a manual dexterity game by Mikkel Bertelsen.
Honestly, it feels weird to be reviewing Klask here. It's as if for some reason I felt compelled to write a review of Skeeball, or Soccer. The closest games I can think of as a comparison to Klask would be Air Hockey or maybe Foosball.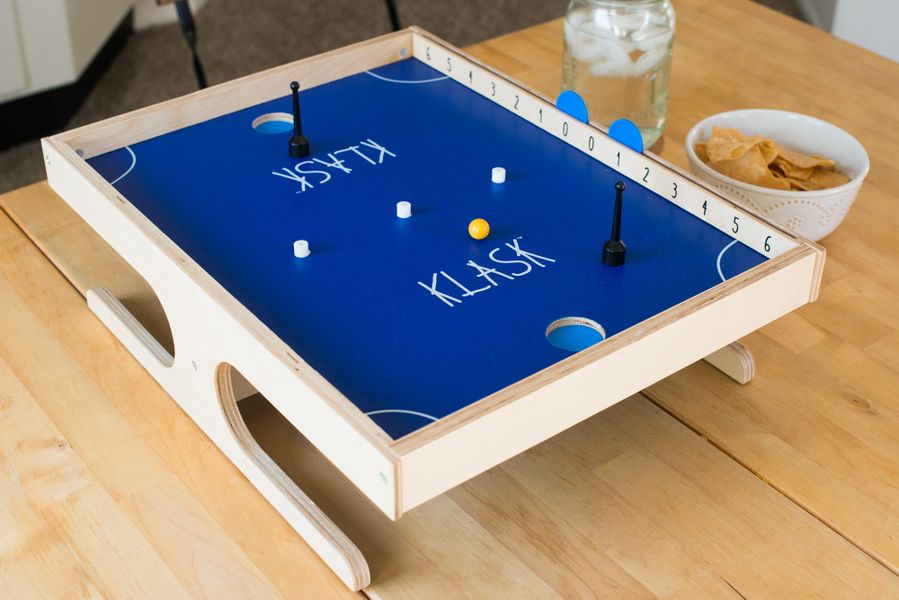 All of this to say that the "Manual Dexterity" part of the game is absolutely not optional. Klask is played in an elevated square wooden box with sides. Each player has a magnet with a stick in the end that they hold under the box, and a pawn they place on top. The top pawn is moved by dragging it with the magnet from under the box.
The pawn and stick aren't the only magnetic pieces, though. Klask also has 3 small plastic beads with magnets in the center that are placed equidistant in the middle of the playfield at the start of a point. These beads will jump and stick to your pawn if you get too close, and if 2 of the 3 stick to a player's pawn, their opponent gets a point.
Points can also be scored by a player hitting the ball into the goal indent on the board, or if a player messes up and gets their pawn stuck in the indent.
The interesting part of Klask for me is how the tiny white beads open up strategy. Without them, the game is pretty much just air hockey with a marble. But with the beads, you can do interesting stuff like hitting them towards your opponent in order to close off parts of the board.
Overall, I like Klask. I just don't like it enough to really want to buy it. That said, if someone asked me if I'd play, my response would be a semi-enthusiastic "Sure!"
Conclusion
I don't think there's any meaningful conclusion you can take out of things like both Klask and Mythic Mischief being present at PAX Unplugged. Maybe there's some sort of testament to the diversity of mechanics and games present. Maybe there's something to be said for the sorts of games you'd play if someone else is footing the bill.
And maybe there's nothing. Maybe there is no purpose. Maybe the real journey was the friends we made along the way.
If you want more nonsense and to be notified whenever I write new stuff, maybe consider following me on Twitter? The site still seems to be up and functioning, at least for now.