I like Perfect Heist 2. It's a fantastic asymmetric deception game about robbing, or preventing the robbing of banks. So does that mean the game is as perfect as its name implies? No. It has a lot of problems. But it's fun, and that's really all that matters.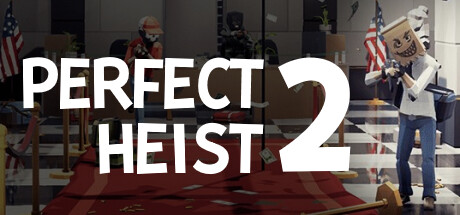 Writing the intro paragraph for this article is an exercise in deciding what watch list I want to get placed on. Do I make the joke about how the game is unrealistic because you get punished for killing civilians as a cop? Do I talk about how I love games that let me lie my way to victory? Do I talk about how my favorite thing in games like Project Winter is convincing someone to work with me, only to bludgeon them to death in an enclosed space once they're out of earshot of the rest of the group and no one can hear their cries for help?
Do I just make all of them?
Oh right, I'm supposed to be writing about a game.
Perfect Heist 2 is a multiplayer deception game about robbing banks. Players join either the robbers or police, with the robbers trying to get as much money out of the bank as possible, while the police try to stop them. If the robbers successfully extract a certain amount of money and make a successful escape, the robber team wins. If time runs out, or all the robbers are killed, the cops win.
You'll note that I didn't say, "If the robbers kill all the cops, the robbers win." It's technically true, but is incredibly rare. This is because Perfect Heist 2 isn't a game about running and gunning; it's a game about being sneaky.
In addition to the human players in a game, there are also dozens of AI-controlled civilians. They generally just meander about, and don't do very much, but they provide the cover for the robbers to infiltrate the bank. However, there are some things the AI won't do. They won't ever sprint, they won't ever pick up money, and they open doors.
Perhaps most importantly though, they'll never go into areas they aren't supposed to be in. There are two general types of AI units: bank employees and civilians. Both types have different clothing patterns, and wearing the wrong outfit for the area you're in is a great way to get shot in the head.
As a general rule of thumb, cops have more damage mitigation, and better guns, which means that if you, as a robber, get into a fair fight with a cop, you're likely going to lose.
Secondly, unlike robbers, when a cop dies, they just respawn. There's a shared a pool of lives for the cop team, and a recently respawned cop now knows where you are and what you look like. Cops can't just go trigger happy though, because if a cop kills a civilian AI even by mistake, the cop instantly dies and can't respawn.
Team balance also influences the general sneakiness of the game. The police can never have more players than the robbers, and usually have 2-3 fewer members. As a result, the teams consist of a larger number of players with no individual respawns and generally weaker stats (robbers) against a smaller number of players, with superior firepower and respawns, but a heavy penalty for misusing them (cops).
So let's talk about how you actually steal money. Maps in Perfect Heist consist of the bank, the area surrounding the bank, and a few generic buildings around the bank that can't be entered. The bank is the interesting part though, as it contains vaults, where a majority of the gold and cash needed to win is kept, along with jewelry, and secret documents, all of which can also be picked up for cash.
There are also ATMs, which can be hacked once to drop money. While the vaults need to be either blown open with charges, or unlocked with various specific classes, the other valuables can usually just be grabbed, albeit with some risks. For example, jewelry is usually in glass cases, and the sound of breaking glass is great way to broadcast where you are to every cop in a 3 mile radius.
TLDR: there are valuables littered all round the bank, and different classes have advantages for going after various types.
Speaking of which, let's talk about classes. There are a lot of classes, both for the cops and robbers. Each class has starting weapons, a passive, and an activated ability.
In terms of actual playability, classes vary pretty heavily. Some are straightforward, like the Demo who can carry explosives without them being visible, or the Tech who can open all vaults after hacking three computers, and has a drone that can carry money bags. Some offer alternative playstyles, like the Crypto-Enthusiast, who can hack computers to install crypto miners, and generate passive cash, or the Fed Chairman who can quite literally print money.
Others are situational, like the Sniper. And some are just bad, like the Pickpocket, or Safecracker. It's a pretty even split between those four groups. There's enough variety to keep things fun, but some classes just don't really function.
The same is pretty much true for the cops. Classes like Riot Control and Spy offer straightforward and always-useful mechanics. IT is situational: useful against classes that want to hack computers or ATMs, but doesn't do much otherwise. Fed Chairman (no, not a typo, both cops and robbers can use this class) can increase the amount of money robbers need to steal in order to win and offers an alternate playstyle. And then there's the Digital Forensics officer who…. can see how long ago a computer was hacked. It's pretty pointless.
I do think the classes are part of the reason why I enjoy Perfect Heist 2, though. The different playstyles and options available mean that you're not locked into a single strategy, and you can switch between rounds if it feels like something isn't working. It adds a lot of replayability, and there's also some interesting synergies (though these synergies tend to be more in favor of the robbers than the cops).
With all that covered, let's talk about what I don't like about the game. First, the game options menu is practically non-existent. Resizing your screen is advanced technology, so I hope you like playing in permanent fullscreen forever. Second, game balance. As a general rule, the game feels balanced. HOWEVER, the way team selection works means that you can get locked into having two teams of the same players go against each other over and over, with one team just crushing the other. Finally, the guns. The guns kind of suck. They feel slow and laggy. Aiming down sight is buggy and doesn't always actually aim down sight, and shooting without aiming down the sight results in firing bullets somewhere within an 180 degree radius of where you were pointed.
These aren't deal breakers. Honestly, if I could change anything about the game, it would be to fix some of the bugs, clarify wording for mechanics for a few abilities, and fix the options menu. If they did all of that, the game would be fantastic, as opposed to the 'pretty good' it currently is.
If this sounds fun, and the issues don't sound like deal breakers, you can grab Perfect Heist 2 for $10 on Steam.