Note: This writeup is about an EARLY ALPHA. The mechanics are great, but it's still buggy, lacking content, and polish. And when I say alpha, I do mean alpha. Not "Steam Early Access." But it's also the best thing I've played this week.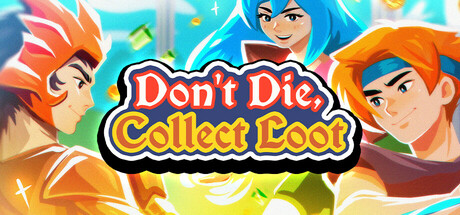 Don't Die, Collect Loot is a combination of Vampire Survivors, and Diablo. And it is absolute brain cocaine. If this was a chemical substance, the DEA would have already found the creator, kidnapped them, and brought them to some sort of black site.
Fortunately its perfectly legal to distribute on itch.io. I don't know how much I've played, and I'm not sure I want to. But let's talk about the mechanics first.
Don't Die, Collect Loot is an ARPG and Roguelike. Prior to starting a run, you set up your equipment and skills. You then select a map to run (right now there's only one), a difficulty, and head on out into the world.
The map scrolls, so at least at the start, just staying on the screen making is one of the obstacles to survival. As you kill enemies, you'll level up for the run, and each time you level up, you'll be presented with a set of three upgrades to choose from. These can be for various skills that you have, or just general purpose buffs to HP or resists.
You go until you die, or until the game breaks somehow. Right now, it's mostly the second one. Again, alpha build.
Right now, I'd consider the game to be fairly bare bones. There are only two classes, one map to run, a single boss with 2 mini-bosses, and a decent skill tree. That said, the game manages to capture what ARPG's are all about: making builds where you click once and everything on the screen explodes.
And despite its bare bones state, and despite the fact that I've lost multiple 30+ minute runs without getting any items whatsoever to bugs, I cannot stop playing it. It's almost hypnotic. It strips out almost every vestigial part of the ARPG gameplay loop. No fetch quests, no annoying story. Just murder everything in front of you, and acquire treasure. The game's name is a perfect encapsulation of what you're trying to do: Don't Die, Collect Loot. That's it. That's all that really matters.
If you want to play the game, you can find the current Alpha here on itch.io, and you can find the Steam page here. Now if you'll excuse me, I'm going to see if I can max Inferno without making the game break.