Golf With Your Friends is a minigolf game developed by Blacklight Interactive, and published by Team 17. You might know Team 17 for things like Worms or The Escapists. Or maybe for that moment earlier this year when they tried to make NFTs. PCGamer has a fairly good writeup on that whole fiasco here.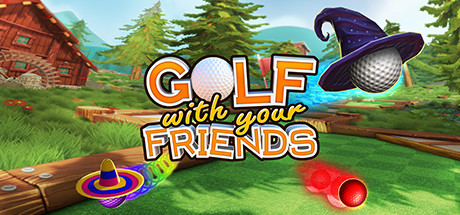 Back to Golf With Your Friends. It's a minigolf game that supports up to 12 player multiplayer. There are a dozen or so courses of 18 holes to play through in the base game, and an entire Steam workshop of other courses of varying quality.
As a minigolf game, it's… pretty good! Decent. Passable. B-. The big issue I have with it is that the physics engine is incredibly wonky. There'll be portions of the game where everything seems reasonable and consistent. Then it'll break completely with no rhyme or reason.
Here's an example. One course has a set of moving platforms that move up and down. For one set of friends, they were able to hit their ball onto these platforms. The ball would stop moving and they'd be able to hit off the platform. For me, every time I hit a ball onto it, the ball bounced, never stopped moving, then clipped through the bottom of the platform and went out of bounds. Originally I thought this was the result of lag, or some client side weirdness. Then it happened multiple times in the level editor in single-player.
And the more I played of the game, the more of these weird moments cropped up. Ramps that behaved inconsistently. Vacuum pipes that didn't vacuum up the ball. Finishing an entire round without some sort of bug or weirdness is a rarity on par with the Ark of the Covenant.
I found Golf With Your Friends best as a multiplayer game. Multiplayer serves a duel purpose of making golf bearable and as an excuse for the bugs. There are people out there who can find joy in mechanical repetition and mastery of a task, and we call those people athletes and speedrunners. I find joy in waiting for my friends to line up for a perfect shot, then knocking their ball into the water by smashing into it with my own. Also crowing about absolutely nailing a hole in one that was complete luck.
Your friend group might not interact like a group of self-cannibalizing jackals, though. In that case, you can turn collisions off. Golf With Your Friends has a variety of game options, including hole type, ball type, collisions, max stroke and time limits, jumping, collisions, and powerups. While this variety of settings is good for custom levels, and tweaking gameplay to suit your friend group, not all of the options feel like they were actually tested.
For example, you can play with a cube, instead of a ball. For a large number of courses, it is straight up impossible to actually get this piece of trash into the hole. And even the more subtle tweaks, such as making things extra bouncy, can have unintended consequences. On one course, having a ball that was larger meant that a launcher gimmick would fail every time. This would have been less annoying if it wasn't the only way to the hole.
Now let's talk about gimmicks. Most courses in the game have some form of trick or gimmick. Some of these are fine, like the small number of moving objects in the forest course. Some are obnoxious, or confusing, like the magic platforms in the ancient course. And some are pointlessly stupid, such as the non-stop explosions in the worms course. They're not enough to make it unplayable, but they do make it pointlessly difficult. And these obstacles also tend to be buggy.
There's one more thing I want to talk about before I wrap this article up, and that's the game's built-in level editor. It allows you to make and publish your own courses to the Steam Workshop.
It is also one of the most garbage pieces of software I've ever had the misfortune of using. Hotkeys are an absolute nightmare, Y is up and Z is sideways. The resize tools work differently for each object. You can't group move objects. You can't group copy objects. The level editor has a "Play Mode" which can be used to test courses, but remember all those game mode options I mentioned above? You can't actually turn any of them on while testing, so you're stuck playing vanilla golf.
Despite all of those issues, I actually did make a course I called "Pain Mountain," and if you're curious, you can play it here. It's not the only Pain Mountain on the Steam Workshop though, so a rebrand may be necessary. The Pain Mountain tourism board is looking into it.
And that's Golf With Your Friends. A reasonable minigolf game, but with a large number of bugs and weird behaviors, a usable but aggravating level editor, and multiplayer that's fun, but not consistent. It's not very polished, but it is fun. It's also several years old, and is no longer the only multiplayer minigolf game out there. If you want to play, you can buy it on Steam here, but I'd suggest waiting for a sale so you can pick up a few copies to play with your friends.