I don't hate Isle of Arrows, but I can't recommend it. It has a nice art style, and interesting core mechanics. But the reason the game took me 12 hours to beat is that randomness plays too heavy a factor. Having good runs is difficult, and having satisfying runs almost impossible.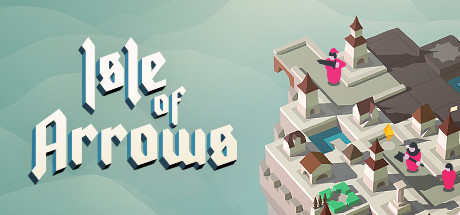 Isle of Arrows is a tower defense tile placement game. You start with a single pre-placed arrow tower, a few pre-placed road tiles, a bomb and a bridge.
Your job is to turn this.
Into something like this.
Game Mechanics and Systems
You have 4 resources: Life, Gold, Bridges, and Bombs. If enemies reach the tiny gold octahedron at the end of the route, you lose a life. Enemies themselves will always spawn on the last road tile on a path to your octahedron.
Gold is the only real spending resource. Each round, you're given a tile for free that you can place. You can either place that tile, or skip it. Then you can spend 2 more gold to draw the next tile. Repeat until you're out of gold. For example, if I had 10 gold, I could place my current tile, then advance choosing to place or skip up to 5 more tiles.
It's important to note that you can only ever see the next single tile that you'll draw. While enemies can drop gold, your primary source of gold is income. It's almost interest: each round, you'll get 1 gold, plus 1 more for each 10 gold you have stored. (Up to a max of +4 at 30 gold banked.)
The tiles you draw have placement requirements, though. Tiles must be connected to another tile you've already placed, they can't overlap with existing structures, and they have to be placed on ground.
Which brings us to the last two resources: Bombs and Bridges. They both serve a similar purpose in allowing you to break some of the rules. Bombs can be spent to place a tile on an already existing tile, and bridges can be spent to allow you to build out into the air. While there are ways to get more bombs and bridges, there's no way to guarantee it.
There are a few more tile types. There are roads that can be placed to expand the path to your shiny defense shape, and there are towers that can be placed to shoot enemies as they travel along the roads. There are also traps, which have some effects on enemies placed along the road, and non-combat tiles such as water that often come attached to other tiles. Finally, you can place economy tiles to generate resources, usually as a one time effect based on where you place them.
Isle of Arrows has a beautiful isometric look. It's fun to watch your island expand! But Isle of Arrows has a big fundamental problem: the randomness.
The Problem
At its simplest, the problem boils down to a question of DPS. There's no guarantee that you'll draw enough towers with tiles to have enough damage to clear late game waves. But more importantly, there's no guarantee you'll see any specific tower. So it's hard to strategize. You can't build or plan with the expectation of "Eventually I'll get X." You can play 40 rounds, and never get a ballista. Or you can get 3 sniper towers in the first 10 tiles, and zero in the next seventy.
As a result, I couldn't set up and build to do anything clever. Sure, I could try to to build a long straight road that would be cleared with a boulder tower, but I'd often never see one. I could set up a winding route that would be perfect with ballista, but if it didn't show up, that route was just a waste of space.
As a result, my strategy was pretty much always the same: pool gold until I got to 30 banked. After that, I'd just place tiles wherever they provided maximum utility in the moment. There was no grand strategy, or clever synergies. Instead, it was just a fight stay ahead of the curve.
I think this is why my brain feels a bit melted after playing Isle of Arrows. I never really changed up my core strategy. Instead, I just tried to have any tower I placed cover as many tiles as possible, and hoped for the best.
I think a peak example of this randomness was visible in my clear of the game's final level, Burning Embers. Burning Embers has a fire theme, and a tower called the cluster tower. Cluster towers get a damage bonus for each other cluster tower they're linked to. But they're fairly rare, and in my first several attempts, I saw either one or zero of them.
But on what would be my final run, I lucked into an early cluster tower, and then several more later on. Those cluster towers made the difference, bringing down the final tanky enemies, because of that cluster damage bonus.
But there was no way to build or plan for this. There was no grand strategy. It was just "Hey, you got lucky on the rolls, here's some good stuff."
And more irritatingly, there are no systems to compensate for the inverse happening, and just getting screwed by RNG. Random draw is the only way to get towers and tiles. You can't choose to spend an exorbitant amount of money to buy a single specific tower. You can't choose to modify the pool you're drawing from. You can make all the right choices, and still lose.
Getting Kobyashi-Maru'd isn't fun, but it's made even less fun by the fact that there is really only one strategy. As I mentioned before, it boils down to just getting as much value out of tiles on the turn you draw them.
Isle of Arrows is nicely polished. I want to like the random tile system for an interesting take on tower defense. But the randomness and capriciousness makes it feel like there's no point to trying out multiple strategies, or trying to be clever.
Give me ways to mitigate being screwed by your system! Let me pay a premium to bring in certain towers if I can pool the money. Or do something akin to Loop Hero, where certain arrangements of tiles and towers morph into a larger super tower structure. Give me some form of decision making that isn't just pushing my luck, or maximizing current utility.
Isle of Arrows is $13 on Steam, at time of writing. Any desire I have to continue playing the game is mostly out of a sense of spite, and to vindicate my own opinions. I'm confident I can clear all maps with all factions. After all, I'd just need to get lucky.
I'll leave it to you, dear reader, to decide if that constitutes a endorsement.
Author's Note: I didn't really mention the faction mechanic. There are five factions outside the starter faction, they all change up the gameplay slightly. They usually make it harder. Architects don't get flags to expand the island, but gets bridges after each wave. Cannoneers don't get flags, but convert any extra life or bridges into bombs. Pathfinders can build roads both ways, but get swamped with road tiles. I've got two problems with factions. First, the general high level strategy doesn't change per faction. Second, each faction is usually more difficult than the preceding one. As a result, clearing each map with an additional faction just feels like grindy busywork instead of an interesting choice of challenge, or a fun variant to try out on a map.
TLDR: There's a faction system, but it feels like it exists to pad playtime, not make it more fun.