MultiVersus is fantastic. If you haven't heard of it yet because you exclusively read Gametrodon and literally nothing else, thank you for your loyalty! You'll be given a ranking position in the new regime. If you have already heard of MultiVersus (because you don't live under a rock), and haven't played it, or were on the fence about playing it, stick around and maybe I can convince you to try it.
MultiVersus is a platform fighter developed by Player First Games, and published by Warner Brothers. If you're wondering why I'm mentioning the publisher, don't worry. It's relevant. But first let's quickly talk about platform fighters as a genre. Platform fighters are, for better or worse, defined by Super Smash Brothers. If you've never played a platform fighter, there are few things that differentiate them from traditional fighting games.
Platform fighters, like traditional fighting games are 2D games where you use your character's moves to hit your opponent. As someone who plays both traditionally fighters and platform fighters casually, there are two big differences. The first is that platform fighters are far more open, with mobility much closer to a platforming game. The second is the win condition. In most platform fighters, instead of each character having a set amount of HP, they have a percent value. When you get hit, your percent goes up. The higher your percent, the more knockback you take when you get hit by an attack. But no matter your percent, you don't actually die until your opponent can knock you off the stage. Finally, platform fighters often have more characters on stage than just the traditional 1v1, and MultiVersus leans into this. The game's primary game mode is actually 2v2, with many of the characters having abilities that buff or somehow interact with their allies.
Speaking of which. Characters!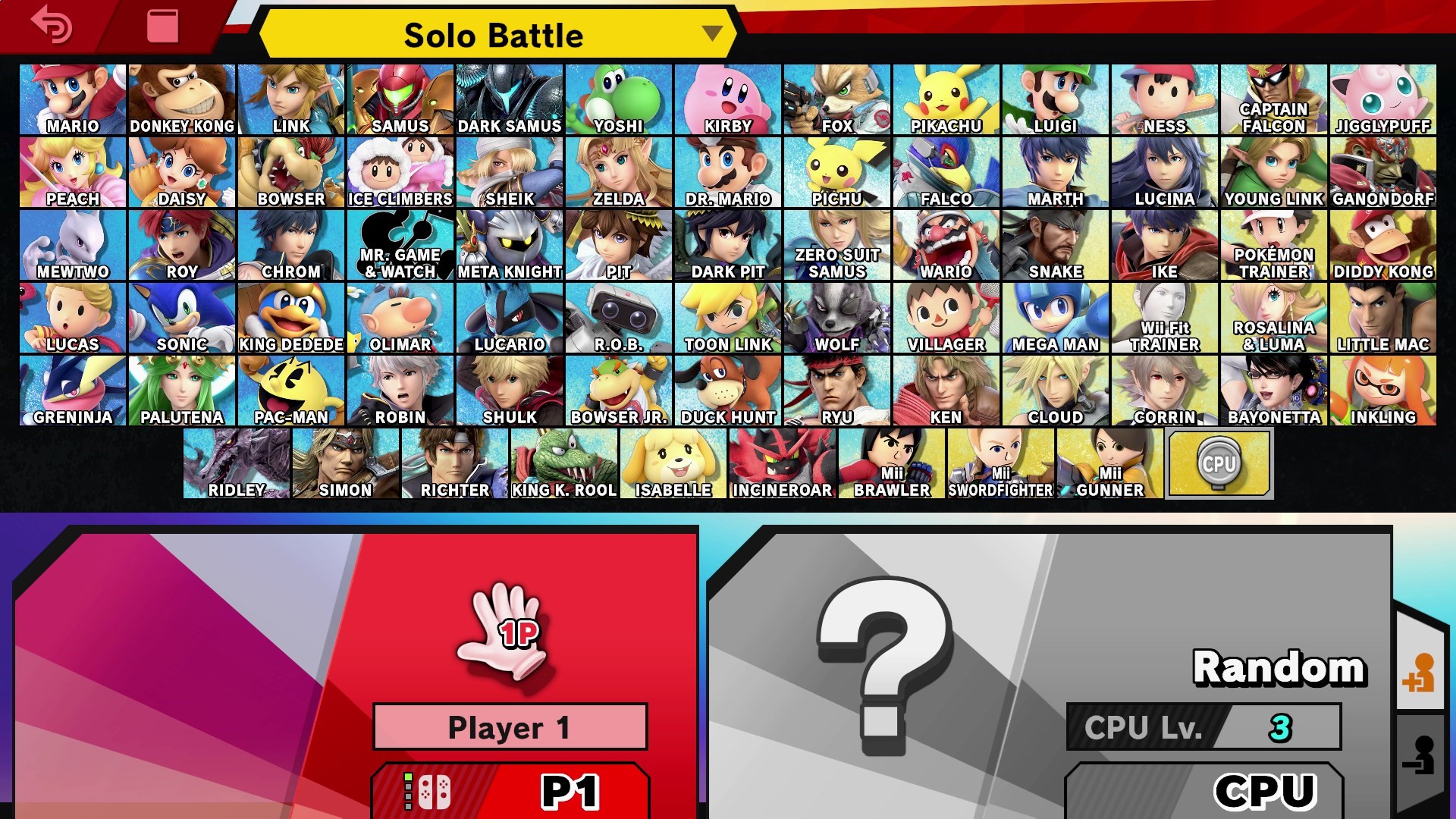 The other thing a platform fighter needs to be good is good characters. That's easy for Smash Bros, which might as well just be the Nintendo "Who's Who" list for video games even if the list does have some washed up entries. (Seriously, I'm pretty sure Falco and Fox are more relevant as Smash Bros fighters than their series is. And there hasn't been a new F-Zero game in a million years.)
This is great if you're Nintendo, but if you have to invent your own characters, like Brawlhalla, or Rivals of Aether, or anyone else in the genre it can be rough. After all, it's not like you can just go dig up a treasure chest of intellectual property from the 40 years.
Hey, remember how I mentioned this was being published by Warner Brothers, and said the publisher would be relevant later?
Turns out, Warner Brothers has the rights to a lot of stuff.
A lot of stuff.
MultiVersus currently has a seventeen-character roster, which isn't huge, but let's look at a few folks in that roster. You have Batman and Superman. You have Shaggy and Velma. You have Bugs Bunny, Tom and Jerry, and Wonder Woman. You have Arya Stark, and Lebron James. You have Stephen and Garnet from Stephen Universe, and you have Jake the Dog and Finn the Human from Adventure Time.
If you can read that entire list without going "Wait what" or getting a least a little excited for a moment about the idea of Shaggy absolutely thrashing Batman in hand to hand combat, then please come to my apartment so I can give you your "Least Exposed to Pop Culture" gold medal. I grew up without TV, I still barely watch TV, and I know who these folks are.
Unlike Smash Brothers, though, these characters aren't from a video game, so it raises the question "How well were they adapted?" Personally, I think they've done a pretty good job. Shaggy is this kinetic bruiser, dashing around the stage, doing that funky little leg zoom walk, and tossing sandwiches. Finn is an assassin, charging up these big swipes of his sword and leaping around. From the characters I've played, they're all fun, with their own tricks and traps.
But this does bring up a point I want to cover: I haven't played everyone, because MultiVersus is F2P, and that means you don't actually get all the characters. It's the League of Legends model, where there's a free rotation of characters, but if you want to unlock a character permanently, you have to buy them with either in game gold, or the premium currency.
This isn't a particularly evil implementation of F2P, but it does commit a lot of the traditional sins of the model. I don't want to put too much energy into calling them out here, so instead I'll give you a quick list of why I don't like it much:
Premium Currency can only be purchased in specific increments. This means you can only purchase say 1000/2000/3000 of it, but all the characters and skins cost different amounts. So you'll always have some left over, and if you want to buy more stuff, you'll have to buy more currency. It's like the evil video game version of the XKCD nacho cycle.
Skins are expensive, like 15-20 bucks a pop.
There's a battle pass/daily quest system, so you have that whole FOMO structure, and since a lot of your gold generation is linked to leveling up characters, it's easy to tell the flow of gold will shut off pretty quickly.
Perks are a gold sink for F2P players.
Oh, that's right! We haven't talked about Perks yet. Lets cover them quickly.
Each character in Multiversus has four perk slots, 1 unique one, and 3 generic ones. The unique ones are a non-issue for me. You unlock all unique perks for a character just by playing them. They tend to offer some sort of boost, or change to one of your character's attacks, but since you can see your opponent's perk choices before a game, they're not a big deal.
The generic perks are where I have a problem, not because of what they do, but because of how you acquire them. They tend to offer small buffs to both you and your teammate. As an example, one gives you an additional third jump in the air after you connect a hit. If you and your teammate stack the same buff, you get a better version it. For example, the aforementioned jump perk when stacked just lets you and your teammate have a third jump always available.
But anyway, this isn't the problem with perks. The problem is that there's a limited pool of perks you unlock for each character. Then you have to spend gold to unlock the rest, and you have to unlock them on a character by character basis. It's like a worse version of League of Legends' old rune system.
The gameplay itself, though, is what carries MultiVersus. And while I might not be a big fighting game person, the friend I played most of my 30 hours with is. To paraphrase his thoughts, while the game is very focused around hitstun and combos, it doesn't feel super toxic. There's also a larger focus on mobility, and to quote him directly "The lack of the homogenization of the trinity (grab/shield/stun) and the presence of charged aerials is a significant shift from other platform fighters."
Personally, I just think smacking folks around in the game feels fun, and even as someone who sucks at fighting, the matchmaking has yet to throw me into a game that I felt like I couldn't possibly win.
Speaking of matchmaking, let's talk about the other part of online play: netcode. MultiVersus has some issues, but overall the netcode is far better than, say, Smash Bros online. There are still situations where it feels like your inputs are dropped, but it's fairly rare.
Overall, MultiVersus is an incredibly fun F2P platform fighter, with a strong (if small roster), and solid mechanics. While it doesn't commit any special sins of being a F2P game, I feel like it would be better if you could just buy the whole game instead of being hit with the traditional spending traps. That said, I might not have tried it if it cost $40, and that would have been a shame, because I would have missed out on one of the very few games to even try to give Smash Bros a run for its money.
MultiVersus is free to play on PC, PS4/5, Xbox One, and Xbox S.
To preempt the question from the one person I know who will read this article: it's not available for Switch, and it's not clear if it will be. Just go grab it for PC. C'mon, it'll be fun!