Editorial Note: The images in this article I grabbed from the Steam Page. Usually I take my own screenshots, because independence and other stuff, but I had some difficultly with that, and honestly, the screenshots are accurate. But I don't want to give the impression that I got all these photos myself.
I really like Wrath: Aeon of Ruin. It gives me a wonderful sense of nostalgia for an era of games that I never actually played, that of the old Doom/Quake/Duke Nukem Era. It might be because you will spend most of the game strafing around gothic corridors with a bunch of weapons. It might be because you will use those weapons against monsters that look like they were pulled from a fire sale at low-poly Lovecraft R Us.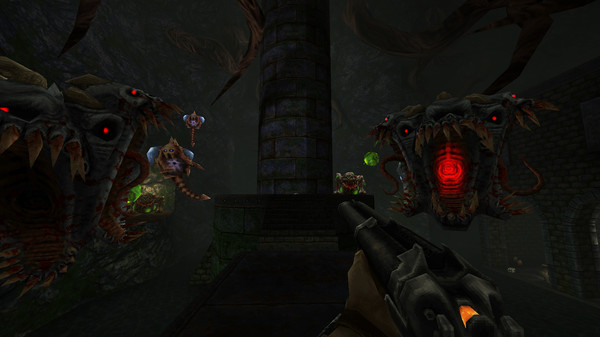 And it might be because it was actually built on the old Quake engine. I had a ton of fun playing it, which makes me feel a bit bad about what I'm going to say: Even if this is a genre you love, I don't think you should buy Wrath yet.
My recommendation doesn't actually have anything to do with the gameplay itself (despite the fact that I definitely have a few gripes with some of the game's systems), but instead with the fact that the game simply isn't finished. There are only four levels, and while they're good and polished, they only took me about 8 hours to play through on the medium difficulty. I actually delayed this write-up a bit because another update was supposed to come out a few weeks ago. Unfortunately, it just got pushed back to this month… so yeah. While I'm sure they intend to do their best to keep their promise, it may be a while before the game ends up in its final state, and as such, I think you can wait on this one. If you're reading this article after the summer of 2021, you should probably check to see if it's fully out, as that's the current estimate for its release date.
Okay, so with that whole thing out of the way, let's talk about the other simple truth of the game: I had a lot of fun with Wrath. It's well polished, and very smoothly executed. It's just fun to run around shotgunning demons and pulping zombies with a stake cannon. I played Wrath because the gameplay was fun. There was no point where I found myself pushing through a boring bit to get back to the story (there really isn't one right now) or grinding for numbers. Wrath has more or less zero filler.
This doesn't mean Wrath is perfect by any means. I have some problems, so let's talk about them.
First of all, while the game is really fun, if you want to actually replay a level, you need to make a brand new save file. There's no option to just reload a given level, or to skip to a certain point with weapons unlocked. This is annoying. The second part, that wasn't super frustrating for me mostly because I was playing on the medium difficulty, is the save system. Wrath lets you save by either reaching a checkpoint, or by using an item called a Soul Tether, which you find and pick up as you play through the game. You have a limited number of these, and while this limit caused me zero problems on the medium difficulty, I can see it becoming frustrating super fast on the harder difficulties. Wrath is in some ways a puzzle game of "Connect The Bullets With The Enemies" and it's entirely possible to get through a section of the game you've already solved, only to die over and over again in a specific area. This means you end up replaying the same parts a lot, and if you're trying to conserve soul tethers, it can take like five minutes to get back to the point you were at previously, just to get another try at something.
These were my two main problems with the game. Wrath is fun, the levels are well made, and outside of a slight overreliance on "You touched a button, now we're gonna spawn in 10 enemies in your blindspot" the game doesn't really have any patterns that are frustrating. I honestly expected to be seeing the same levels over and over again, but the actual layout and design is quite varied.
So yeah. Wrath is fun, but currently it's not finished, and it's rather short. I have some gripes with the save system, and how you can't replay levels, but outside of that, I'm excited to see what the full game looks like. If it maintains the level of polish and creativity that I've seen so far, it will easily be worth the $20-30 price tag I expect to see on it.