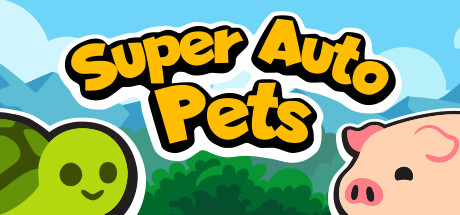 Super Auto Pets is pretty neat. Overall I like it, and I recommend it. It's available on mobile and PC, but unlike most mobile games doesn't have the sort of monetization that makes you feel like you've given your phone an STI by downloading it, and just offers expansion packs instead.
So now that I've said that I like it, what type of game is it? There's a whole discussion you could have about its genre, but most people would call it an Auto-Battler. Because I'm a contrarian, I'd call it an Auto-Chess. Regardless of your preferred genre name, the goal is to construct a team out of units, each with their own stats and synergies, and last long enough to beat out each opposing team you play against.
Most other Auto-Something games I've played have had a fairly high learning curve. This is because they tended to be mods, or based off mods for games like Dota.
Enter Super Auto Pets.
Super Auto Pets keeps the general structure of the Auto-Chess genre, but replaces the complicated units with much more understandable versions. You still spend gold to buy units, you still combine units to power them up, and you can still re-roll the buy row, but instead of dozens of potential stats, Super Auto Pets units have just attack, health, and an ability.
So let's talk about the flow of a game of Super Auto Pets, and then the two different game modes that are available.
At the start of a game, you'll be given 10 gold, and a market of three pets from which you can buy. Each pet in the market costs three gold, and you can spend one gold to reroll the available pets. There are also food items, which give a variety of buffs. They can range from temporary stats for the next round, permanent stats, or an equipable item.
You have five slots for pets, and you can rearrange them however you wish for free. You won't have a full five pets until after the first round or so, but after a little bit, your screen will look something like this.
When you finish, and hit the end round button, you'll go to combat. And this is where the "Auto" part comes into play. Going from right to left, your pets will fight against another player's team of pets. Making simultaneous attacks, combat is pretty simple. Each pet loses health equal to the attacker's attack stat, and when they run out of health, they faint, and the next rightmost pet moves up to take their place. Whoever runs out of pets first loses, and if you both run out at the same time, the game ends in a draw.
Losing a single round won't lose you the game. Instead, after each loss you lose a number of lives that increases as rounds pass. This is one of the interesting differences between Super Auto Pets and other Auto-Chess games I've seen. Most other entries instead have you lose a scaling number of lives or HP based on how many opposing units remain when you get knocked out.
The amount of lives you lose isn't the only thing that changes as rounds pass. The pool of available units and food for purchase changes as well. Higher tier units tend to have stronger stat lines, and in many cases, stronger abilities.
So why wouldn't you just always purchase them instead? There's two reasons. First off is that while their base stat lines might be higher, they may not fit well into your overall strategy. The second is that base stats doesn't always translate into actual stats.
Like with other Auto-Battlers, Super Auto-Pets allows you to level up your units by fusing additional copies into them. This increases their base stats, but vitally also often buffs their abilities.
Abilities are one of the biggest parts of the game I haven't really talked about yet. Almost all pets have an ability, and they do a lot of different things, for different triggers. Some like the grasshopper create extra units in combat when the pet unit faints. Others might give a stat buff to another unit, such as the ant. Others function outside of battle, like the giraffe, which buffs other units permanently at the end of each round. As a side note, another interesting thing is that many of these abilities work in both battles, and the buy menu.
There are a few more things I want to talk about with Super Auto Pets before I wrap this up. The first is how the game avoids becoming stale. When you first install the game, it may take a little while to learn the default pool of pets and food, but past a certain point there becomes a fairly clear path to victory, and winning becomes more of a matter of "Can I complete my engines/strategies before my opponents complete theirs?" To deal with this, the game has the aforementioned expansion packs, and also a weekly pack that changes out the units and food items available, effectively creating a new meta to be solved each week.
The closest parallel is probably how something like Dominion works. You have a larger pool of total cards, but in a given game, only a subset of that pool is in play. As a result, the skill shifts from memorizing meta strategies to being able to read a pool and spot synergies.
The second is the game modes. Super Auto Pets has a standard Auto-Something mode, where you play against live players with 60 second buy rounds, but it also has a mode called Arena. In Arena, there's no timer, and no hard pool of players. Instead of being the last player standing, your goal is to get 10 wins. You have as much time as you want to think and buy. When you choose to end a round, you'll be matched against another player's team from same level and round as you're currently in, and play against them.
Arena mode is probably the biggest thing that sets Super Auto Pets apart from other Auto-Somethings, because it lets you play the game at your own pace, while skipping having to wait for matchmaking.
I don't have anything else to say about the game. Truth be told, I like Super Auto Pets, but I don't "like" like Super Auto Pets. I think it's an accessible and friendly entry to the genre. The only in-app purchases are expansion packs, and they total about $15.
If this sounds interesting, you can grab it for free off the relevant app store for your phone, or for PC on Steam. Or just play it through a browser over on itch.io.