I generally like Sector's Edge. I think I should probably make that point early, because I'm going to be complaining about it a fair amount. But overall, I enjoy the game, and recommend it.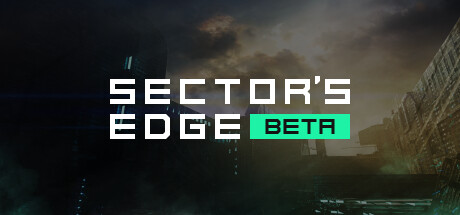 Sector's Edge is a free to play FPS with fully destructible terrain, and building. On the sliding scale of FPS's, it plays much closer to something like Call of Duty or Battlefield than Halo or TF2. What this means is that time to kill is low, and getting one-tapped is pretty common.
Let's also talk about the F2P element real quick as well. I've played 10 hours, and as far as I can tell, money only buys you cosmetics. There's no way to buy more powerful guns in the cash shop.
There's also a point-based loadout system. The game gives you a bunch of starting loadouts, but you can also build your own. Loadouts consist of weapons, armor mods, throwable items, and your digging tool. These can all be customized with various attachments, and even the digging tool can be upgraded or downgraded to change the number of available points. Sector's Edge has some of the worst grenades I've ever encountered in a video game, but all the other weapons I've tried have felt pretty good, so I'm going to call it even.
Okay, now that we've covered both of those, let's talk about the biggest difference between Sector's Edge and other shooters. The fully destructible terrain and ability to build. Every Sector's edge map is effectively made up of Minecraft-style blocks, and players can also place blocks.
You can build by placing blocks one at a time, or by putting them down in configurable structures that can be designed in sort of home base area called the Ship.
This means that maps will start out nice and pristine, and depending on how things progress, they will end as combination sunken crater and modern art installation. In one of the most memorable games I've played, an entire section of the map ended up being so destroyed that there was a literal air-gap between attackers and defenders, with both sides trying to build across, but also not let the other team cross.
One big difference between Sector's Edge and Minecraft is that you can't build floating structures connected to nothing. If a building ends up connected to nothing, it comes down hard, usually leaving an impact crater. These moments are surprisingly smooth (even if the audio can go a bit nuts) and fun to watch. But it does bring me to my biggest problem with Sector's Edge.
Not all of the game's maps are set up in a way that takes advantage of the destructible terrain, or is even fair to both teams. As an example, I'd offer the desert map. It's a large flat map, with two bunches of smaller houses on opposite sides. If the game mode is capture the flag, one team's flag starts atop a small house within a cluster of chokepoints, and the other team's starts in the middle of the desert, with no cover or obvious defenses.
Additionally, because the map's so flat, and the "houses" are packed with an incredibly hard to destroy material, digging and destruction feels pointless. And while you can tunnel a bit, it often doesn't help.
This is my biggest issue with Sector's Edge as it is right now. Some maps feel incredibly fun and interesting, and some are boring slogs where individual contribution feels meaningless, and whichever team is better at not running into the meat grinder wins.
I still have some other small issues, which these are the sorts of things that might change in a beta. Let's go through them real quick.
First, there's almost no indication you're being shot except for your health decreasing. Second, the game has a movement system that allows sprinting and then crouching to slide. But since you can't hit both keys at once, you can't really use the slide without rebinding keys. Third, and this is just a personal dislike, I wish there was more support options like droppable ammo-boxes available. I get why they made this choice (probably to discourage snipers that never interact), but right now when you run out of ammo, you're pretty much useless.
Ignoring all of those, though, there's one really big thing that the game needs: some sort of squad system. The game's 12 v 12 pacing is pretty chaotic. When I play with friends, I'd like to be able to actually play with them. Right now, it feels like we're just playing parallel on the same map. And when I'm playing with 11 randos, I'd like to be able to find my friends, squad up, and be able to work with them. To be clear, I'm not asking for the ability to respawn on them or anything. I just want to be able to pick out specific teammates whose location and status are highlighted on the map.

I recognize that I have a lot of complaints here, but I want to stress I still like the game. The main reason I have these complaints is because I played it for 8 hours straight yesterday. It feels like a good game. There are things about it I like (most of the guns, the destructibility) and things I don't (some maps, grenades being uncookable and on a microwave timer), but overall I enjoyed Sector's Edge and recommend playing it.
If this got you interested, you can find it here on Steam.