Ed Note: I grabbed the images for this article mostly from the Steam Page. I doubt this will ever be an issue, but I do like to make sure people are aware of the differences between images I take, and stuff that is effectively marketing material.
It's easy to look at Pummel Party and think "Oh, it's a Mario Party clone, but for PC." But while Pummel Party does feel heavily inspired by Mario Party, after playing quite a bit, I think it's actually a much better game. With that said, just like Mario Party, you will need friends to play it with, because playing Mario Party by yourself is incredibly sad. So let's talk about why Pummel Party is good, and why it doesn't feel like the 50 minute exercise in coin flipping that is Mario Party. Oh, and it supports up to eight players, instead of just four.
So, first let's talk about the general structure of the game. If you've played Mario Party before, you already know most of this, so you can skip this paragraph.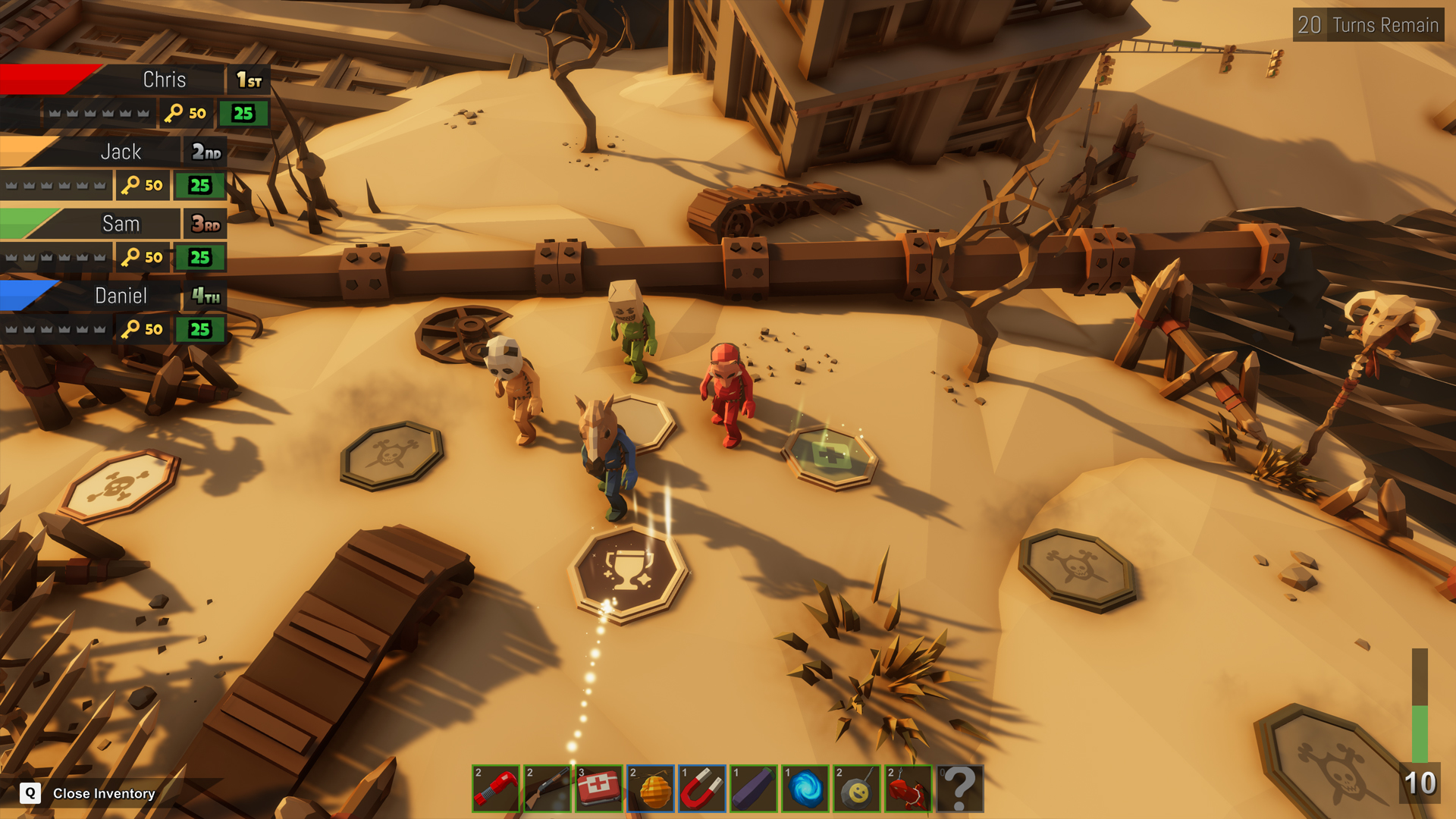 All players are placed on a large board, and a game consists of a series of rounds. During each round, players can choose to use an item if they have one, then they roll a die to move across the board. Based on where you end your turn, you might get items, coins, or some sort of special event might happen. After everyone has taken a turn, players play a mini-game of some kind, and are rewarded with currency. Currency (Coins/Keys) can be spent to buy victory points (Goblets/Stars), but they can only be purchased by reaching specific areas on the board. Whoever has the most victory points after a given number of rounds, or reaches a threshold first ends the game, and is (probably) the winner.
Okay, boring introductory stuff out of the way. Let's get into the big differences between the two, and talk about the idea of player agency for a bit.
The biggest things that Pummel Party adds to this formula are a second stat called health, better items, and different turn order mechanics. Lets start with those turn order mechanics shall we?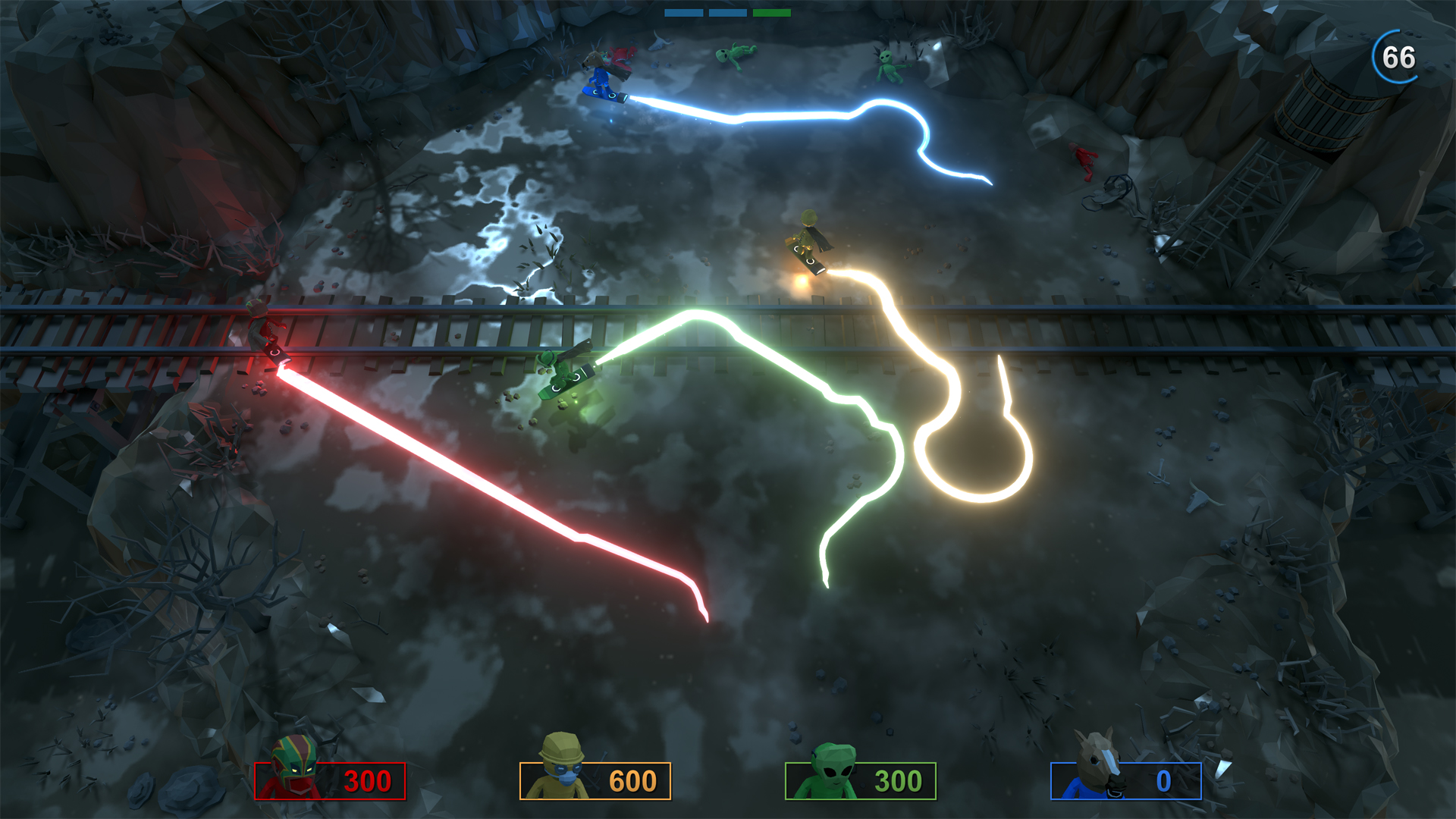 In Pummel Party, turn order is decided each round by placement in the last round of mini-games. Winners go first, losers go last. This is important because it means that actually being good at the mini-games is important. If two players are neck in neck trying to reach a Goblet, whoever wins the mini-game is likely to reach it first, as they get to move first. In addition, doing well in mini-games rewards items, which are far more useful for interacting with other players than anything in Mario Party.
So let's talk about those items and health. Health is a secondary stat that caps out. If it hits zero, you lose 30% of your currency (according to patch notes) and get placed back at a graveyard. You might lose health because you ended on a damage spot, or another player's Reaper Spot (TLDR: First person to touch them chooses either health or keys. Every player who steps on them after that loses that resource, and it's sent to the spot claimer). More likely though, you'll lose health because another player has opted to pull out a shotgun and blast you in the face. It's one of those items that you can get for winning mini-games, or by picking it up from the map.
The big thing here for me is that in Pummel Party, you actually have the ability to stop someone who is starting to cruise their way to victory. You can team up in mini-games, you can work together to drop wrecking balls onto their head, or you can just blast them with a cross map orbital laser. Winning mini-games lets you pull ahead and act first, before your opponents can take action, and losing means you have less resources.
Okay, so now that I've sung the game's praises, lets talk about the elephant in the room: the mini-games.
Some of the mini-games are very good.
Some are okay.
And some are just not fun.
While the game does let you turn off mini-games you don't want to play before the game start screen, it's undeniable that some of these games are just… garbage. There are also quite a few that seem to give host advantage, and others that feel buggy or glitchy. (Looking at you, laser train game.)
This doesn't bother me enough to stop playing Pummel Party, but it does mean that I usually want to actually play the board game mode instead of just mini-games.