Lucifer Within Us is very good. It's an incredibly interesting deductive reasoning puzzle game that takes place in a world where exorcists (of which you are one) solve crimes. It is also very short.
This makes it kind of a problem to recommend. Here's the closest metaphor I can come up with: Lucifer Within Us is a piece of fudge from that really nice bakery that you don't go to, because even though the fudge is the most delicious thing in the world, it's $12 an ounce. The fudge is delicious and incredible, but the money to fudge ratio is incredibly high.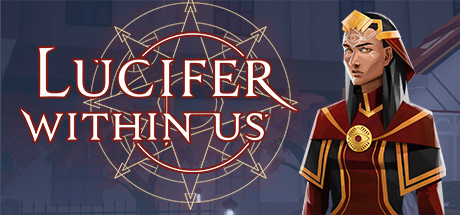 So, first a brief overview of mechanics, and a screenshot, so I can reduce the number of words I have to write. Like I mentioned above, in Lucifer Within Us you're an exorcist for the Church of the worship of Ain Soph. The first murder in over 100 years has just occurred, and you need to find the culprit, and name the demon possessing them. You do this by gathering evidence and interrogating witnesses to the crime.
Oh and also if you catch them in a lie, you can delve into their mind with divinely imbued powers and see into their soul, revealing possible motives for the crime.
You're given access to the crime scene, and the witnesses. You can search the crime scene for physical evidence, and talk to the witnesses. Each witness gives you their version of events, which can be played out over a timeline. However, because it's just their version of events, almost everyone will be hiding something about what actually happened. You'll need to call them out on their contradictions and omissions to determine the truth.
Okay, first let's talk about the good stuff.
Lucifer Within Us is an incredibly unique puzzle game/deductive reasoning game. There are a lot of things that can be complimented about it. Its unique blend of cyberpunk and faith. Its general art direction for its characters and world. The 3D models look like old school Runescape, but they suffice, and the art for the demons and characters reminds me of Hades. Look, this is the part where we say nice things about the game, okay? I do not give a shit that the 3D models are basic. It doesn't matter. The transitions, effects, and everything else easily makes up for it. The mechanics are incredible, and I've never seen another game that works like this one does. I love the parallel timeline for suspects. The process of actually solving the crimes, in 2 hours of straight puzzle solving, hit a "Adventure Game Bullshit" moment only once. That's a high fucking bar.
As a brief aside: talking about Lucifer Within Us is going to require spoiling either one of two things: the specific plot and details of the game, or the specific number of "levels" in the game. I'm choosing to spoil the later. The reason for this is since Lucifer Within Us is a narrative based puzzle game, I think more would be lost by revealing narrative and plot details than the other info.
And when I say short, I mean short. My own steam achievement list lets me estimate the game at being just over two hours in length. My playtime says that the game has 4 hours and 20 minutes on it, of which just under half was spent getting every achievement just so that I was sure that I hadn't missed anything. I had not. This is compounded by the fact that it offers almost no replayability outside of the aforementioned achievements, which don't add that much.
"Well" you might be thinking. "Perhaps he used his incredible reasoning skills and logic to speed through the game, without appreciating properly." To which I reply, 1. Haha, funny joke implying I have skills and reasoning and 2. No. No it's not. It's because there are only 3 levels.
The length (or lack thereof) is compounded by the game's ending. I have mixed feelings on it, and I'm not going to go into details here, but the last portion of the game feels as if Lucifer Within Us suffered from a massive cut in scope at some point in production. I've actually emailed the devs in the hope of getting an interview, because I really want to know what's going on. The game ends with what amounts to PowerPoint presentation and a massive lore dump, despite the rest of the game carefully avoiding heavyhanded storytelling.
No, really.
Look, I'm gonna be honest. I do enjoy novelty and unique events. Would I refund the game currently if I could? No. It was $12. I'm always happy to see people pushing the envelope of neat game mechanics and design. Much of the writing and subtle world building present in Lucifer Within Us, along with the mechanics, is top notch. It is premium, grade A, good stuff. But I'd be lying the game's ending didn't disappoint me. I was just starting to get interested in the world, and then lore dump plus credits roll.
If you prize unique mechanics and storytelling over content length, I can recommend Lucifer Within Us. But if you're expecting something that takes you more then a couple of hours to play through, you'll likely be disappointed. It's available on Steam, and also here on itch.io.
Ed Note: We reached out to Kitfox about trying to set up an interview to ask some questions about the game. I was going to add/include that as part of this writeup if it happened, but it's been over a week, and I haven't heard anything yet, so for now review will stand on it's own.