Kirby and the Forgotten Land is fine. But even though I just finished the game, I don't really have any strong feelings about it. I think if you're looking for a fairly relaxing 3D platformer, or are newer to video games, Kirby would probably hit the spot. That said, if you don't play Kirby and the Forgotten Land, I couldn't really make a strong argument that you'd be missing out on much.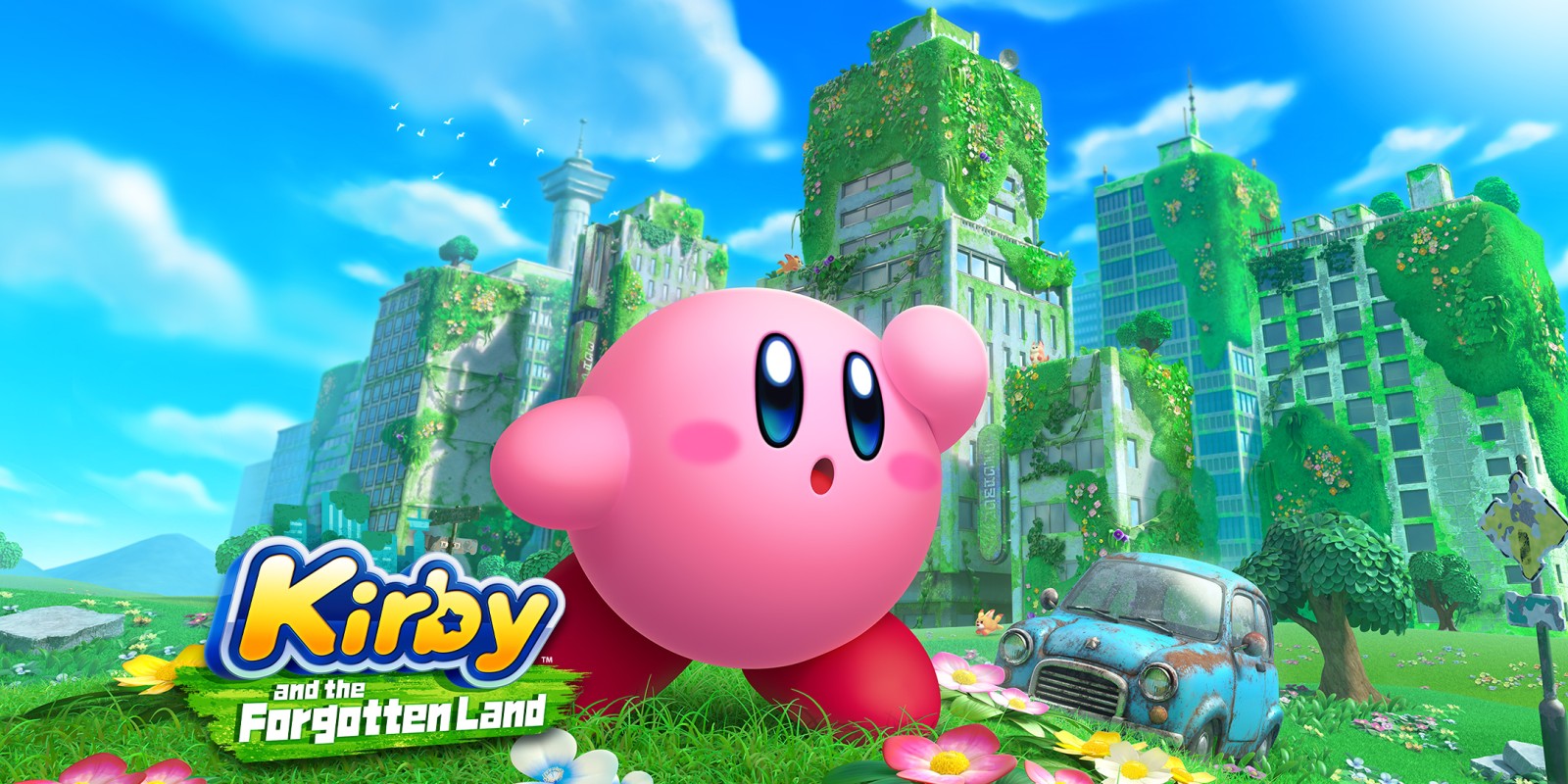 Kirby games are generally fairly easy*. I don't think this is a bad thing. Kirby is Nintendo's entry level franchise. Making a game that everyone can beat, but still feels fun to play for both folks who might be picking up a controller for the first time as well as jaded freaks like myself is a tough balancing act. If you want more insight into that sorta thing, I suggest you check out this article from the Washington Post, with the creators. Even how the game handles detection isn't straight forward, and is built in such a way that if an attack looks like it should connect, it connects! Which is brilliant, and clever, but still easy.
*Many Kirby games have post-game content in the form of boss rushes/time attacks/etc. These are NOT easy.
This writeup is about Kirby and the Forgotten Land though. So let's get the bit of this article were I describe game mechanics verbatim over with, shall we?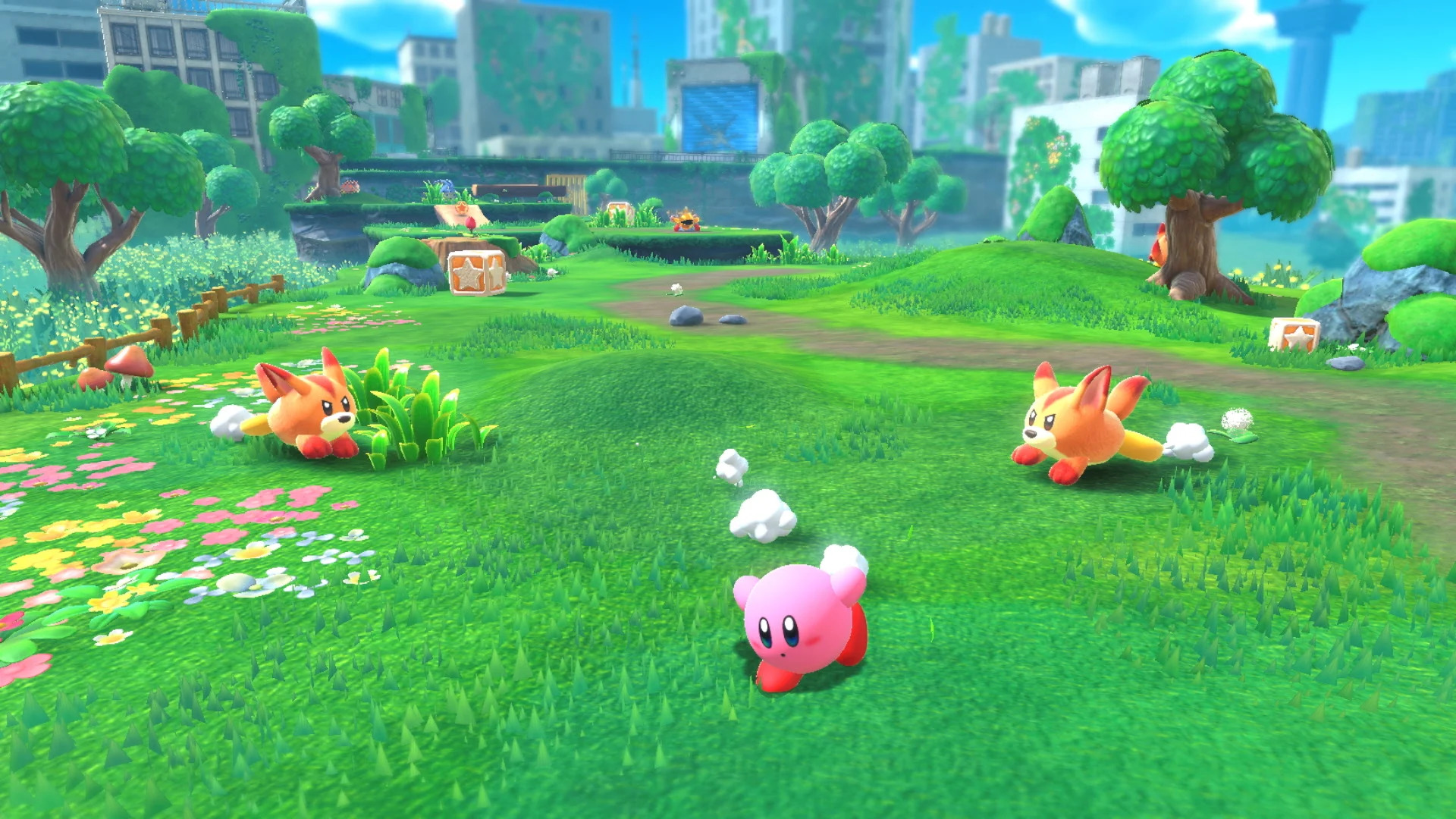 In Kirby and the Forgotten Land, you play as Kirby. Like most Kirby games, the primary mechanic is being able to swallow up enemies, and copy their abilities. Unlike most Kirby games, the game is the first true 3D entry in the series. You don't quite have the ability to jump/float infinitely, as it would break most of these 3D maps. Compared to something like Amazing Mirror, the game is incredibly linear, taking place over a series of levels played in order.
Each level has 5 mini-objectives, and two main objectives that are always the same. Objective one is to complete the level, and objective two is to find hidden captured waddle-dees. Usually the waddle-dees are in some sort of hidden area off the main path, or in something that needs to be destroyed. Objectives 3-5 are usually to complete some sort of additional task, and while these start out as hidden, each time you complete a level, you're given a hint about what these extra goals are.
By the time I completed most levels, I had found 8-9 of the 11 waddle-dees. Beat enough levels, and you'll reach the boss. Actually unlocking the boss does require that you freed enough of the waddle-dees from earlier, but I never actually had to go back to replay a level. I always had enough waddle-dees anyway. Beat the boss level, you unlock the next world.
Let's talk about the bosses. They're solid. Like most Kirby games, there are mini-bosses, which are fairly easy, and main bosses, which are the only places in the game I died. They're fun spectacles and are somewhat challenging.
Outside the main game levels and the bosses, there are a few more activities. There's a home town area that gives access to several mini-games, which I never played. There are also side areas called treasure roads that serve as time-trials/skill checks to get currencies to upgrade your abilities. I played like two of these, and then decided I didn't care.
Complaining about Kirby being a generic video game is like complaining about Lord of the Rings being generic fantasy. Kirby is meant to be an easily played and approachable game, with a certain level of challenge and depth offered in the post game for more skilled players. As I mentioned in the intro, it's not like it's easy to make a game anyone can beat and feel good about it.
But with that said, I also don't have strong feelings about it. Kirby and the Forgotten Land doesn't offer anything I haven't seen before, or seen at a similar level of polish. It's a new Kirby game, with all that the series entails, including bright and colorful visuals, a story that takes a surprisingly dark turn in the last 90% of the game, and a final boss that looks like it belongs in a JRPG.
If you're newer to gaming I think it's a really solid place to start. Not because it is easy, but because it's well designed. It's good training ground for a lot of the habits and ideas that could serve well playing other games. Kirby and the Forgotten Land is $60 for Nintendo Switch. It's a fine 3D platformer, with a fair amount of content and side objectives, but it doesn't redefine Kirby games, and outside of the boss levels, there wasn't anything super memorable about it. I don't dislike it by any means, but I don't feel passionately about it.
Post-Script: So after finishing the game, and dying a bunch in Elden Ring, I went back and decided to play the post game. It's much harder and could best be described as a remix of the base game. It takes sections from each world, compresses them into a single level with juiced up boss fight at the end. Then it adds extra enemies to each section. It's a lot more fun and interesting, because it isn't as easy. I appreciate that it's there, but I wish there was just an option to start with this version of the game.
TLDR: There's a harder game mode, but you have to beat the game to unlock it.