I like Legion TD 2. As of writing, I've played about 84 hours of it, and I haven't quite burned myself out yet.
Ed Note: In the time between starting writing this article, and finishing this article, that number has moved up to 120.
Legion TD 2 is a sequel to Legion TD in the same way that Dota 2 is a sequel to DotA, which is to say that it isn't. If that last sentence didn't make any sense to you, I can put it a different way: "Legion TD 2 is a remake of Legion TD in a new engine, as a standalone game, with better graphics and support." So if you've ever played the Warcraft 3 mod that was its predecessor you already know the structure of the game.
If you haven't, here's a quick crash course in the general flow and structure of the game.
Legion TD 2 is a competitive unit placement/builder. It's not really a typical tower defense, at least in the standard way of thinking about things. Instead, you spend gold to place and upgrade units onto a grid, before each wave. At the start of each wave, your placed units turn into actual units, and go to fight the incoming wave of units. Units have a damage type, an armor type, and the game has a somewhat Pokemon style matchup for what beats what. So in order to do well, you need to know in advance what wave you'll be facing.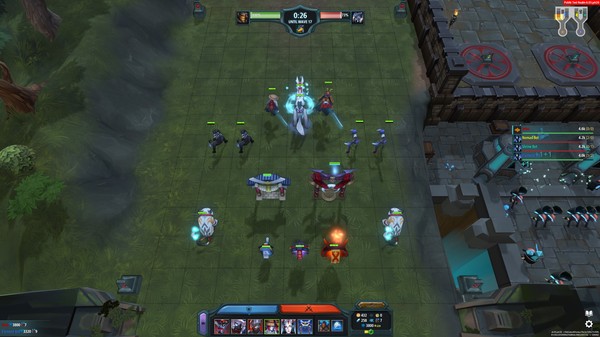 If all your units get killed, the remaining enemy attackers go and fight any units that your teammates might have had remaining after clearing their own set of waves, and then go and attack your king. If your king runs out of health, the game is over and your lose. If your opponents' king runs out of health, you win.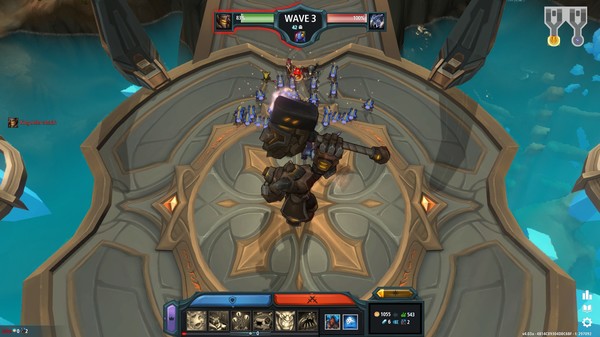 There are two big things I haven't mentioned yet that provide a lot of the meat of the game. First off, the units you can build in any given match are semi-random for that given match. So unlike most other tower defense games you can't just make a perfect build and roll with it; you have to be able to look at your choices, and make judgements about what you'll need, and when you'll need them.
The second is a mechanic called sending.
Sending is when you spend a resource to add additional units to an enemy wave that is attacking one of your opponents. The resource in question is called mythium, and you get it over time based on the number of workers you have. Workers cost gold, the same resource you use to buy and upgrade units, which means money spent on getting workers is money that isn't spent on upgrading your actual defensive line. Sending also gives you permanent gold income based on the units you sent to attack, so holding all your mythium just to blow it at once can actually end up costing you money.
There are a few other mechanics I won't go into too much right now, but this is the general gameplay a match of Legion TD 2. The game is about keeping a balance between investment and long term economy. On waves when your units are having a bad matchup, you might need to commit more to building up your forces, and on waves where you're strong, you choose to sink money into workers instead.
At the same time, you'll be trying to read your opponents' builds, and make guesses about when they'll be weak, or when they'll decide to apply pressure. If I have any gripes with game, it would be that once you fall behind, it can feel very difficult to fight your way back in. There just aren't any comeback mechanics. "Leaking," or allowing waves of attackers to get your king, means you'll have less gold to work with for future waves. As a result you can end up in a situation where if you overspend on building units, you can't scale in the long term, but if you don't build enough units, you just die.
Legion TD 2 appeals to me in the same way that a game like Dota does. Like Dota, in Legion TD 2 you play the game in short matches, and over a match, you feel the fun power curve of playing a longer RPG or tower defense game. It feels fun to finish and build up some of the bigger towers, and to watch them wreck incoming waves, at least for a bit. At the same time, there isn't really any out-of-match progression. Each match you restart at nothing, and go through the whole process again. The main power progression lies in learning about mechanics and edge cases, trying different strategies, and just generally improving bit by bit.
Legion TD 2 is surprisingly relaxed for a fairly competitive game. You can't exactly play it and do something else at the same time, but as far as games go, it doesn't require require massive amounts of micro or clicky clicky. Instead, it just requires focus, and a bit of patience. It's far more mellow than something like Underlords or TFT.
At this point I've played a lot of Legion TD 2, and while I really like it, it's not going to be to everyone's tastes. It's highly competitive, and while the toxicity isn't as bad as what I've seen in other online games, it is present. Everything that isn't the gameplay is fairly underwhelming, with art and music that feels very "generic fantasy." But the mind games and push-and-pull resource management are unique—if what you've read interests you, and you have $20 to spare, I'd encourage you to check it out.