I don't love Kunai. I wouldn't recommend it. But I played 8 hours of it, so I'll be damned if I'm not going to try to get a review out of it. And yes, that was enough to finish the game.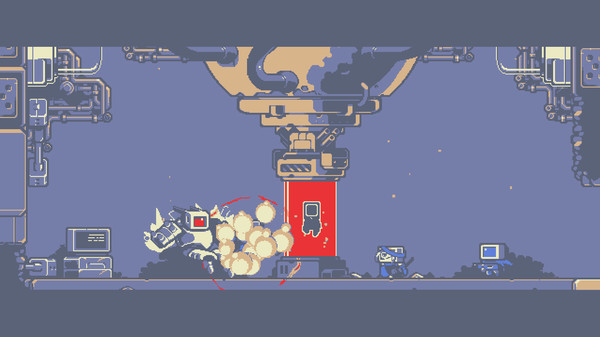 If I was asked to summarize Kunai in a sentence, it would be something like "Kunai is fine." That wouldn't be entirely accurate, though, because if I tried to make it longer, it would be something like "Kunai is on average fine, or slightly mediocre." The key word there is average, because there are a few areas of the game that take advantage of Kunai's strongest point: the expressive and expansive movement of the player character, Tabby.
See, Kunai is a platformer/roguelike, or at least that's what it wants to be. It never quite feels like that, though. When you revisit zones, it's because you're required to backtrack through them. There are no items that you find that aren't clearly in the main story path. Many of the zones feel fairly linear, and don't actually require much exploring.
What Kunai does do well are your actual movement options. Between the titular Kunai, a late game dash, rockets, SMGs that can be used to gun float, and otherwise just fairly solid controls, Tabby is a lot of fun to run around with. Unfortunately, the game doesn't play into this as strongly as it could, and many of game's zones either don't take advantage of it, or feel like they actively punish it. Moving too quickly gets you killed, and outside of one area, you never really get to just ricochet around.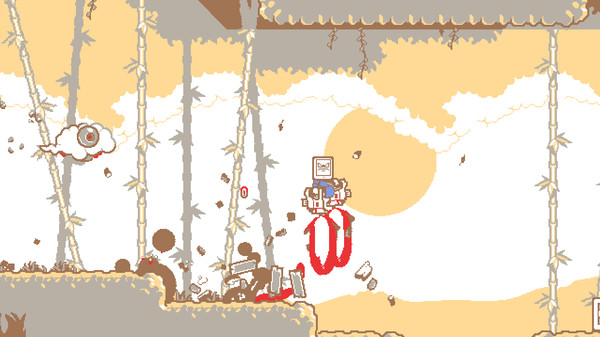 There simply isn't anything that Kunai does that I haven't seen other games do better. It would be easier to recommend Kunai if the sum of its parts was greater than its whole, or if it collected a bunch of different mechanics into a game for the first time. But there are other games that take everything Kunai does, story, exploration, movement, art, music, and knock it out of the park, whereas Kunai just limps along. Like, if you want to play an expansive indie metroidvania, just go play Hollow Knight. The gameplay is much better, the game is longer, and Hollow Knight actually has a good story.
Speaking of which, let's talk about the story briefly: Kunai has a story, but it feels rushed and incomplete. There are plot points that feel straight up skipped over, for example a relationship with the villain that's hinted at, but almost completely ignored the entire game. Nothing ever comes together or makes sense.
We're part of a rebellion against something, but it's not clear what we're rebelling against? Or why? Or why the villain is doing any of this? It's frustrating because much like Tabby's movement, the game sets up a very interesting-looking situation, only to never quite utilize it fully.
The game feels like it had heavy cuts to its intended gameplay. For example, there's a bit where you help power up a giant mech. You put in the power core, see it turn on and… all it does is fly you to a new area, where you do a gauntlet of enemies, then fight the final boss. It's an incredible letdown.
I feel bad for tearing into Kunai this much, but the only reason I have so much to complain about is because the game feels like it has untapped potential. There's a fantastic movement system handicapped and hamstrung by mediocre zones and levels. There's a story that starts out interesting, kneecapped by too little explanation in some parts, and far, far too much in others. Combined, the game just isn't satisfying to play, and can actually be rather frustrating.
I hope the game makes back its development budget. I hope TurtleBlaze gets to make a second game that doesn't feel as rushed. There's a lot of potential here, and a few things that are done quite right.
But there aren't enough of them for me to recommend this game. If this review didn't turn you off, you can find Kunai on Steam, and on a few other consoles.
Ed Note: Images are taken from the Steam Store Page. I just don't have anything really valuable to add with screenshots of this game to be honest.