Ed Note: Images for this writeup are from a combo of the Disgaea 4 Complete press kit, and my own save file.
Disgaea 4 is, somewhat strangely enough, the first Disgaea game I played. Specifically, Disgaea 4 Complete+ for the Switch. As far as I can tell, the "Complete" part just means that they opted to include all of the additional DLC and scenarios that were added to the game after its initial release in… 2011.
10 years ago.
Okay, so we might be a teensy bit late on this one.
In any case, like the other games, Disgaea 4 primarily takes place in the Netherworld. The main focus of the story is Valvatorez, a previously incredibly powerful vampire and also arguably total idiot, who never breaks promises he makes. One of these promises involved an agreement to not consume human blood ever. Pretty much all the other side characters are great as well, including Fenrich, Valvatorez's second in command, who feels like an inverse version of the traitorous vizier trope, and Fuka, a elementary school child who dies, goes to hell, and then proceeds to determinator her way through the Netherworld by refusing to accept her death.
These games can be kinda weird.
The general arc of the game is Valvatorez's staging of a coup against the current President of Hell, in an attempt to fix the problems the Netherworld is having, including lack of energy, an inability to handle the influx of guilty souls, and just general failure to… well, be hell.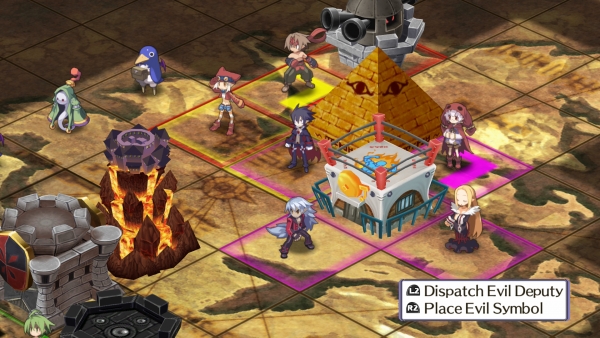 Mechanically, this comes in with the Corrupternment and building placement map. As you advance through the game, you'll unlock political titles, buildings, and other elements that give benefits to units placed within their area of effects on this grid. You can also pass bills and policies to boost yourself, your rate of EXP gain, unlock new units, make friends, and also just shake down senators for cash.
The general structure of the rest of the game is fairly straightforward, with both the Item World and Chara World in Disgaea 4 following a similar structure of being procedurally generated combat levels where you need to clear all enemies, with a few additional minor changes between them. The game also has Magichange, the ability to turn monster characters into weapons temporarily for your other characters to use (don't worry, they get better), and monster fusion, which lets you fuse monsters into larger versions of themselves with better range and damage.
Overall, Disgaea 4 is currently my favorite of the games story-wise, if not mechanically. While the game's art style and mechanics haven't aged terribly, many of the UI elements and menus do feel a bit outdated at this point, and some of the connectivity features, like fights and pirate ship leaderboards, feel a bit dead. Despite all of this, though, the fights are still interesting, the grind is nice and grindy, and story and characters are still funny.
You can get Disgaea 4 Complete+ here for Switch, and here for PC if you're interested.