Editor's Note: this article was mostly written during the week of the 2020 elections. Then it wasn't posted. Whoops.
Writing about games this week felt a bit like re-arranging deck chairs on the Titanic, so instead of any big full reviews, I have bunch of thoughts on some things I've been playing, even if none of them really stuck with me.
Just think of this article as the digital equivalent of a list of abandoned animals looking for a loving home. Except in this case, I'm the one who abandoned them.
Okay, that fell apart pretty fast, but the core takeaway is just because I don't like a game doesn't mean you won't. If you like the look of a game, clicking the name will bring you to the itch.io page.
Of the games on this list, I think I liked Airships the most. Like the name suggests, it's a game about building 2D airships and commanding them around.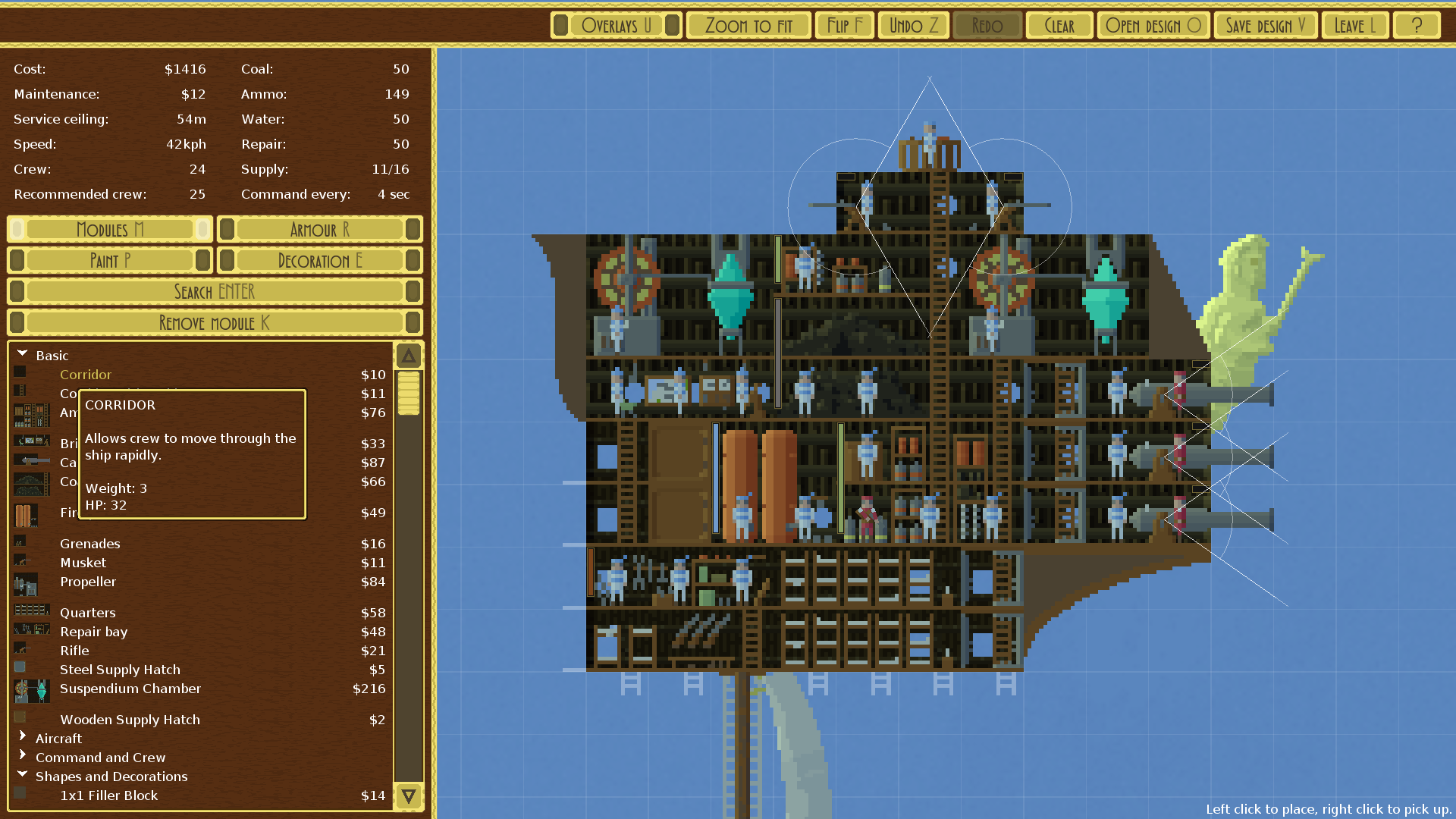 Much like with other vehicle construction games I've played though, after a bit, I kinda just got bored/stuck. There are a bunch of single player missions and an auto-generated campaign with customizable difficulty to play through, but they didn't grab me. I suspect a large part of the loop of construction games like this is either making small improvements and testing upgraded ships, or trying to build ships and ideas around a gimmick or trick.
Maybe it'll be the game for you, though?
If Airships was the game I liked the most, Midboss was the one I wanted to like the most. The pitch is simple: an isometric, turn-based roguelike where you can process the bodies of enemies you kill, learning and absorbing their skills. It just never really grabbed me, though, and after maybe 7-10 runs, I put it down and picked up something else. The body snatch mechanic is cool, but often runs turned into more tedious chains of trying to build myself back up after losing a valuable body, and being kicked out.
From what I played of WitchWay, it's a puzzle platformer. You are a witch. You have a magic wand, and you can use it move blocks. Blocks have their own rules and twists on how they can be moved. And then I stopped playing. There wasn't really a special reason for it or anything, I was just… done.
It's a roguelike, in the classic sense. In both classic senses. Like, in the sense that the entire UI looks like it's projected onto a CRTV, and also in that it's a fairly standard procedurally generated dungeon crawler. Unlike everything else on this list, which I would say is the game equivalent of "Just Not For Me Thanks," Haque's graphics actively made playing the game harder for me (although they are incredibly on theme). There are sliders to turn off various effects and such, but even with those, reading and understanding the UI annoyed me too much.
IN CONCLUSION
I'd say they're worth checking out if they sound like your cup of tea. I wanna stress that none of these were bad, so much as they never grabbed me. They're good, well made games, just not for me.